No longer searching for a new home, I find myself nesting more and more. Rather than seeking a place to be, I'm working on seeking the me I will be. First question I have is how to serve my artistic side. Possibly because there is a mystical quality to fly fishing, I insist it is not a hobby but a necessity of life. There should be more. Or as the song says, "is that all there is"?
I tried welding. The reason that didn't take is the fact that I have lost some skills that I took for granted in my previous life. I find that I used to be able to will inanimate objects to cooperate. The thread always found the eye of the needle on the first try; the fishing leader would always trace the appropriate path to tie the most complicated knot while standing in the middle of a stream at dusk. Now I need magnification, extra light and a steady chair if I am to accomplish either.
So I turned, once again, to woodworking. I found great satisfaction in simply removing various layers from Diamond Willow sticks and turning them into walking sticks and canes. Fortunately, I have a lot of friends that can use these items. I got the bug after finishing the raw stick I've been keeping along with many other chunks of interesting wood.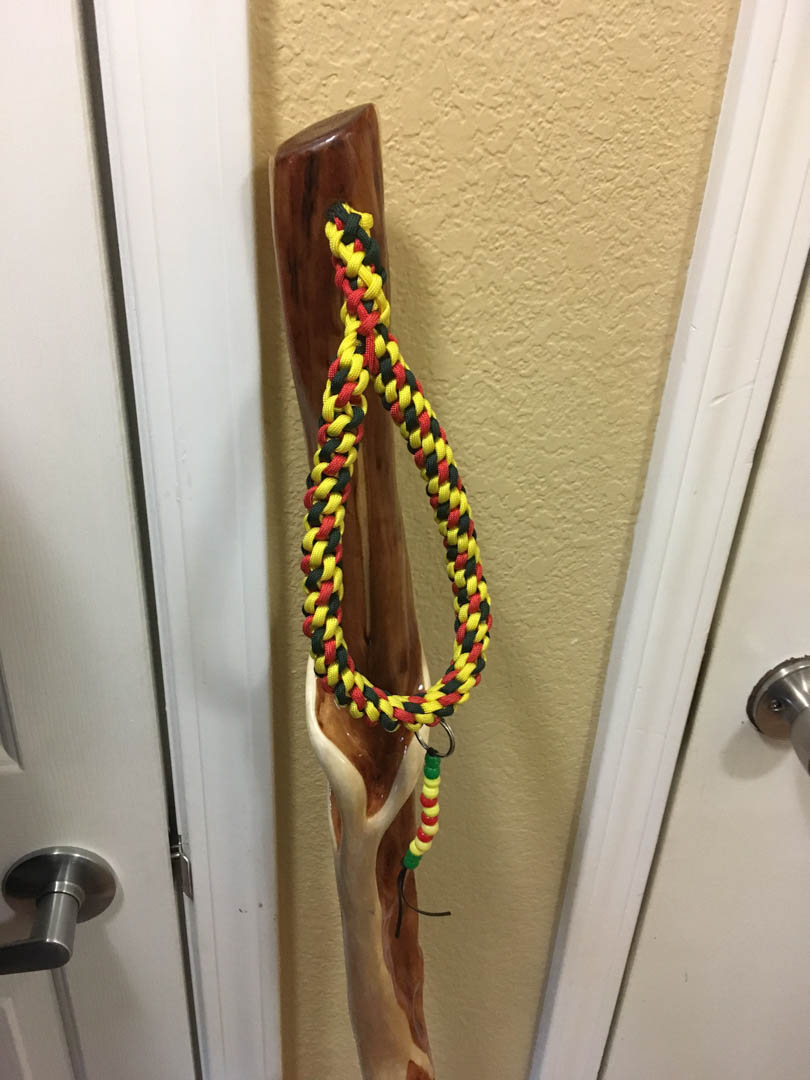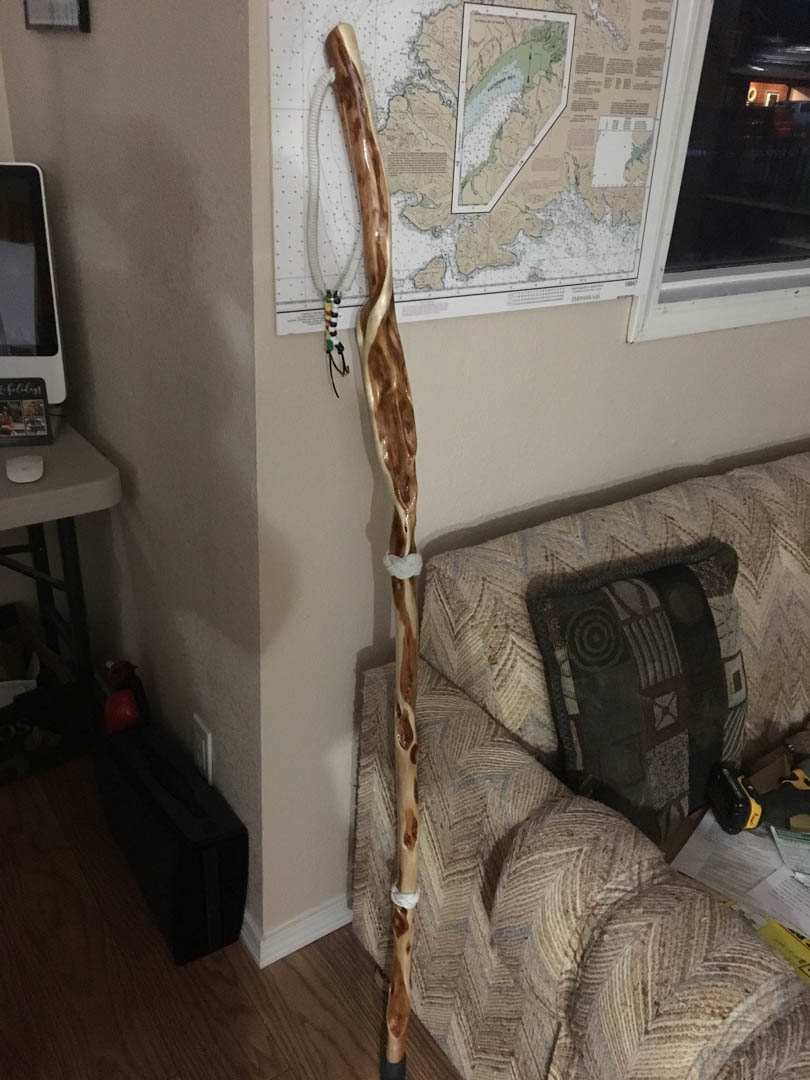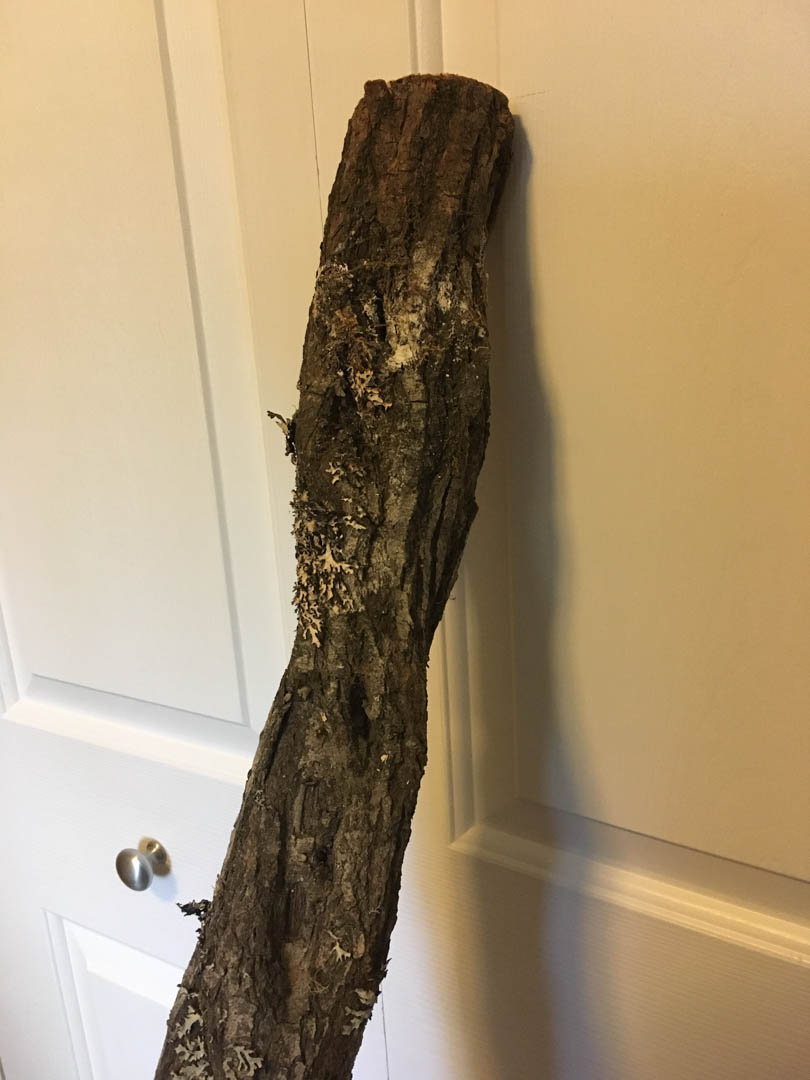 This is my stick and an example of how they look before carving.
I liked it so much I decided to see if I could fine more raw material. My original source has passed away and his heirs are not replenishing the stock. I bought up all that I could find and have been making sticks and canes for my friends. Please don't feel slighted if I haven't made your stick yet. I'm pacing myself (one stick every two weeks or so) and the raw stock I have is quite limited.
Here are the sticks I've finished.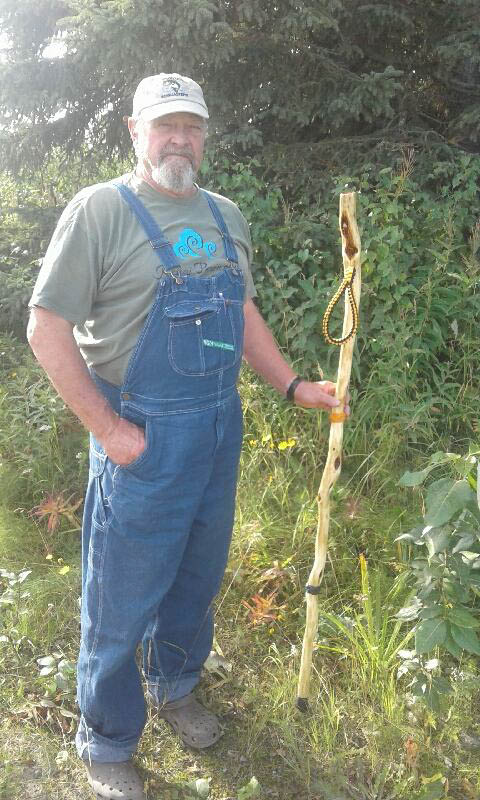 Marion with his wife's stick. Jane, a retired Army officer, chose Army colors for the strap and Turks head
This is Marion's cane.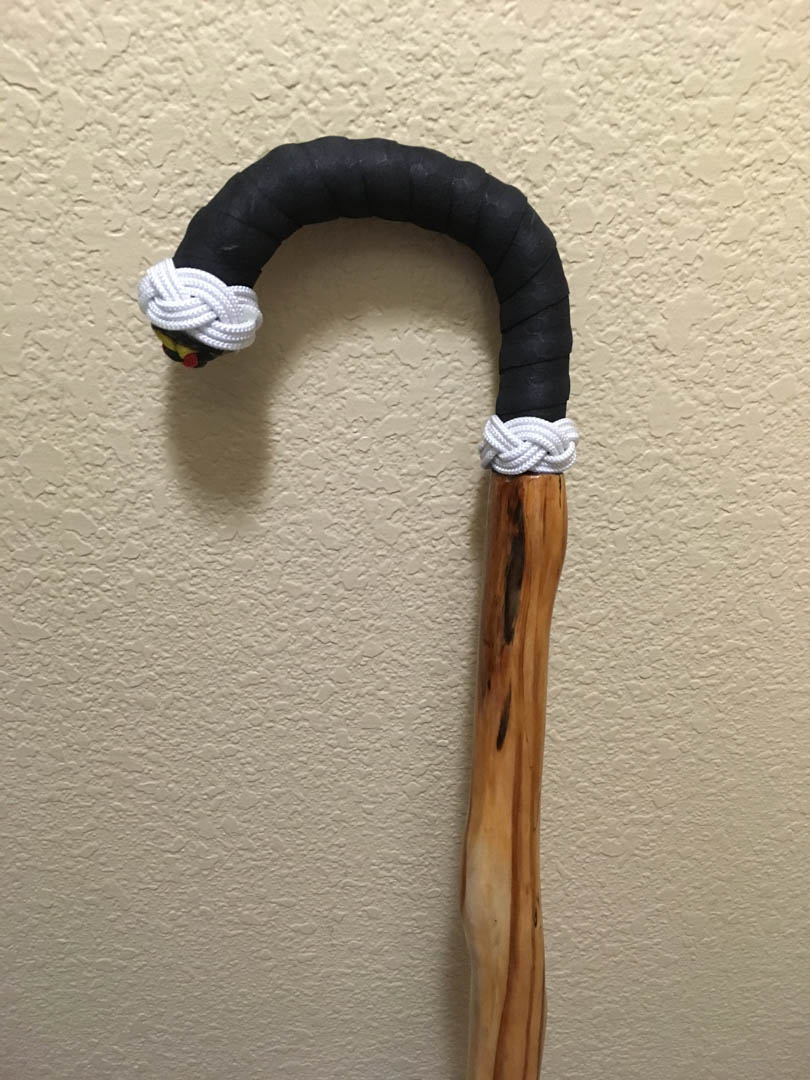 This is Jimmy's stick.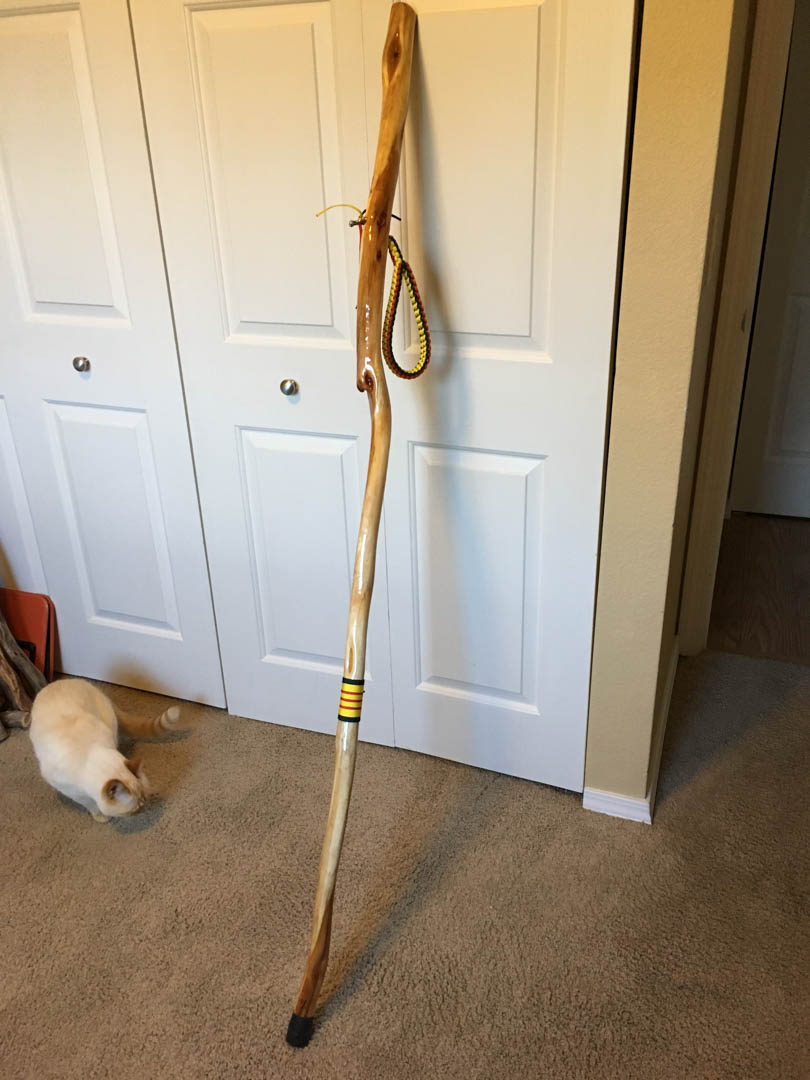 Jimmy opted for Vietnam colors for trim.
Right now I'm working on Roger's stick. Stay tuned.
Now as for a cause. I'm a firm believer that you need to feed your creative side but equally important is the need to have something that you feel passionate about, can actually effect change and will serve to improve the lives of those who follow.
Since I firmly believe that the Vet Center system has saved me from the brink of disaster, I can think of no better cause than to work to improve the lives of the lost vets out there. How do you help the homeless vets and the over 20 vets we lose to suicide EACH DAY? The VA is too big for an individual to fix or even improve but the Vet Centers are able to help. The key is to get the vets to show up at the Vet Centers and ask for help. Both of those things are extremely difficult for wounded vets to do. And the wounds I'm talking about are not visible to the inexperienced eye. So, those in need are often stereotyped and driven away from the help they need. If they are lucky enough to stumble into a Vet Center, their needs will be recognized and they can be helped.
So. My cause is to get the vets I meet every day to give the Vet Center a chance. The goal is to get so many vets registered with our Vet Center that they can justify increasing the staffing and services here on the peninsula.
Somehow, I got connected with our local public radio station and their news department to host three (Marion, Jimmy and me) vets to a hour long segment on the needs of vets on the peninsula. The VA participated via phone and I think it went well. The reporter (Renee Gross) said she wanted to do a followup feature so we did more interviews and exchanged texts until she was satisfied that she had it right. The coffee table segment aired last month and the feature aired yesterday and will repeat Monday morning. Here's a link to the station that has both the coffee table segment and the feature article.
http://www.kbbi.org/post/va-wants-more-veterans-register-healthcare
She focused on my hat, which has it's own story. The hat I was wearing was a baseball cap with bold text proclaiming "Vietnam Veteran". All that got me was "thank you for your service" from most folks. Not what I was aiming for. My new cap is more nautical and has no text, just three pins. The Vietnam campaign medal (patterned after the South Vietnamese Flag), the Combat Infantryman Badge and Army aviator wings. There are photos on the KBBI website link above. Here they are; the website also has the audio of both broadcasts.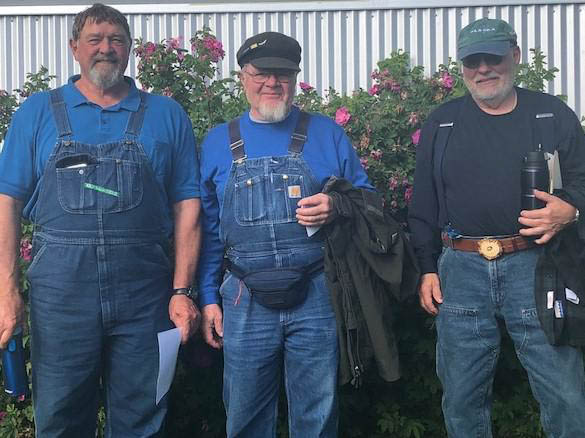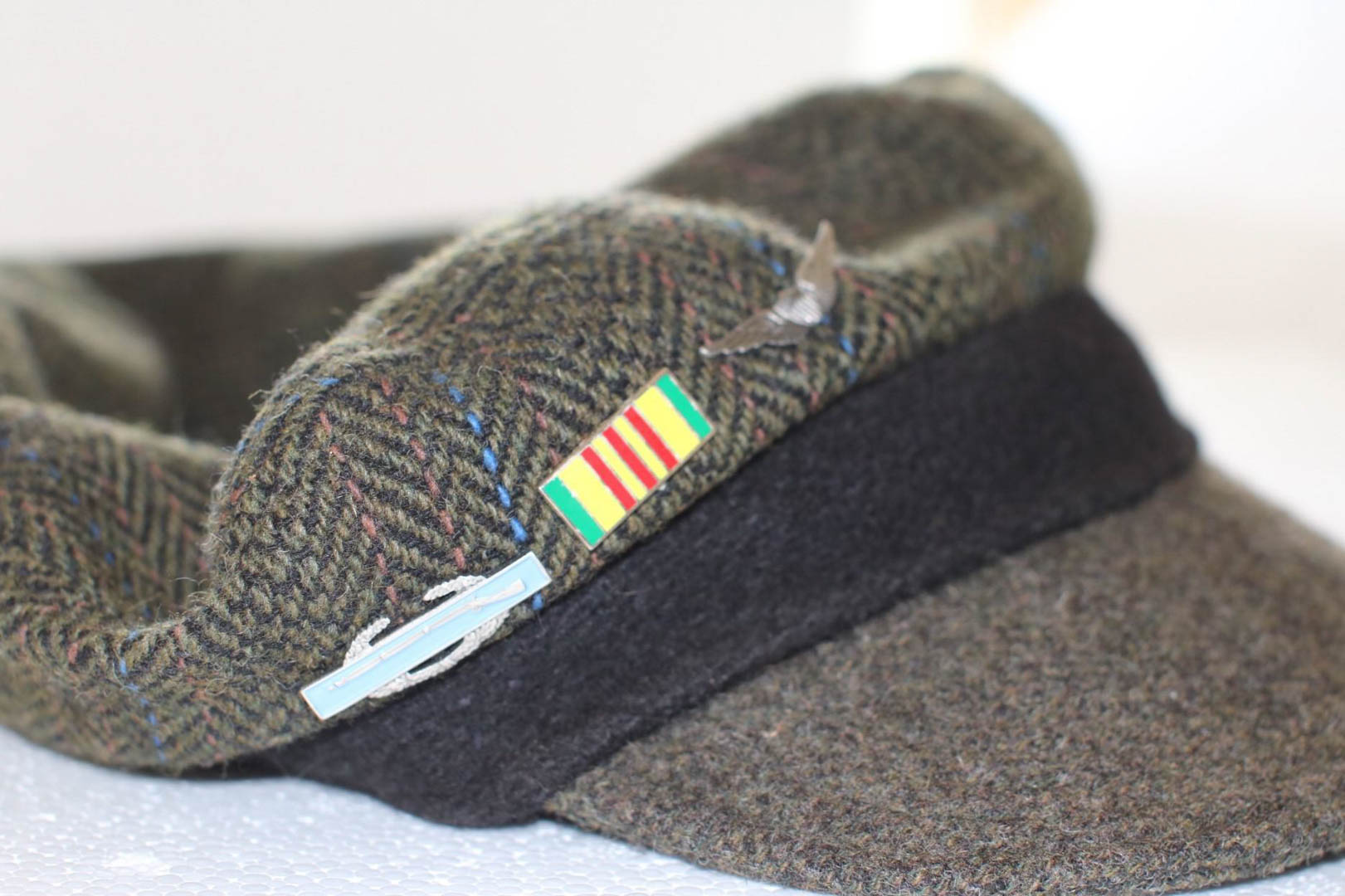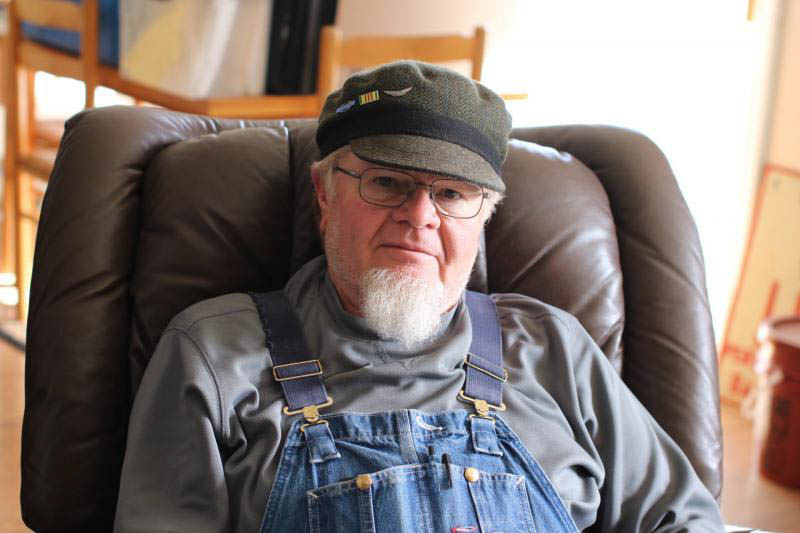 So far the hat has worked out fine. But the vets are not lining up at the Vet Center. No surprise there, we have a lot of bad experiences and stereotypes to overcome. The work will continue.
The weather is perfect for it.