Good Afternoon All,
Homer is clear to the South of the damage or inundation zones. This morning the earthquake was considerate enough to wait until just before dawn (8:20) to gently rock us awake here in Homer.
I'm sure it was different for Anchorage. Still waiting for a complete assessment of the damage, we'll probably get caught up via the evening news.
Thank you all for your messages and concern for our welfare. Please accept this post as a reply of thanks and we are fine. Still waiting for reports from friends closer to the epicenter.
Shortly after (less than a minute) the quake, the alarms began. We have an extensive tsunami warning system and it kicked in. Loudspeakers all over the "Tsunami Inundation Zone" blared out the warning and advised us to tune to local radio stations for more information.
The radio was broadcasting the warning with details of the possible wave arrival times. Kodiak had the earliest time of arrival, followed by Seward and then Homer. Homers projected wave arrival time was forecasted to be 11:45. We all thought that was not a good time, too far away (3 hours?).
So the result was that we all calmly packed and agreed to meet up at a diner (Duncan's) up the road a bit. Then I start my car and make the first of two trips to the car with "stuff". The cat ( Madonna ) preferred to stay but I insisted.
While we were calmly packing and getting cars warmed up; someone from the police pulled up on an ATV and said we had 20 minutes. This sounded more likely, so we left.
Inside the diner, everyone was on their devices looking at the damage and/or assuring their friends that they were OK. Before we could order breakfast, the warning was cancelled. Most everyone agreed, we might as well have a late breakfast and there was certainly no reason to go back to work today.
So, bottom line:
We are OK.
Anchorage and vicinity is not, tune in at 11 for updates.
Thanks again for checking in, you guys are my rock.
I also owe you a photo that I did not have for the last post. I said that we had a lot of driftwood. This is looking West; my apartment is just to the right and behind the big red/brown building with all the windows (the Elks Lodge).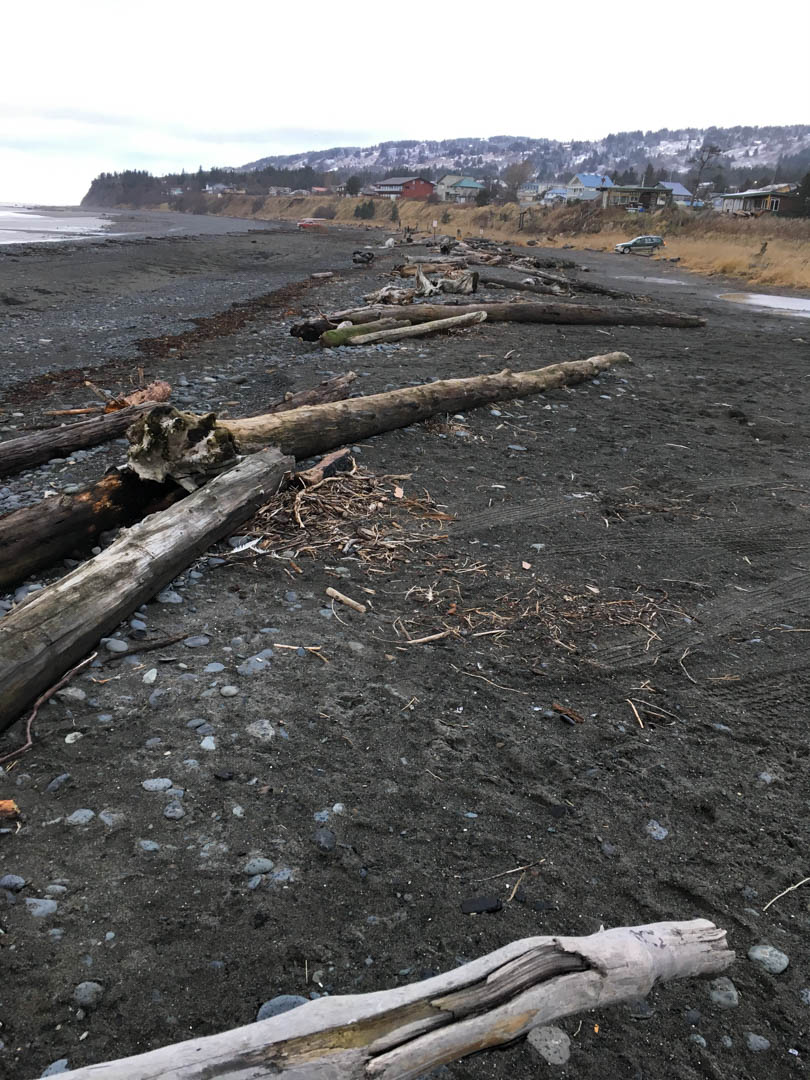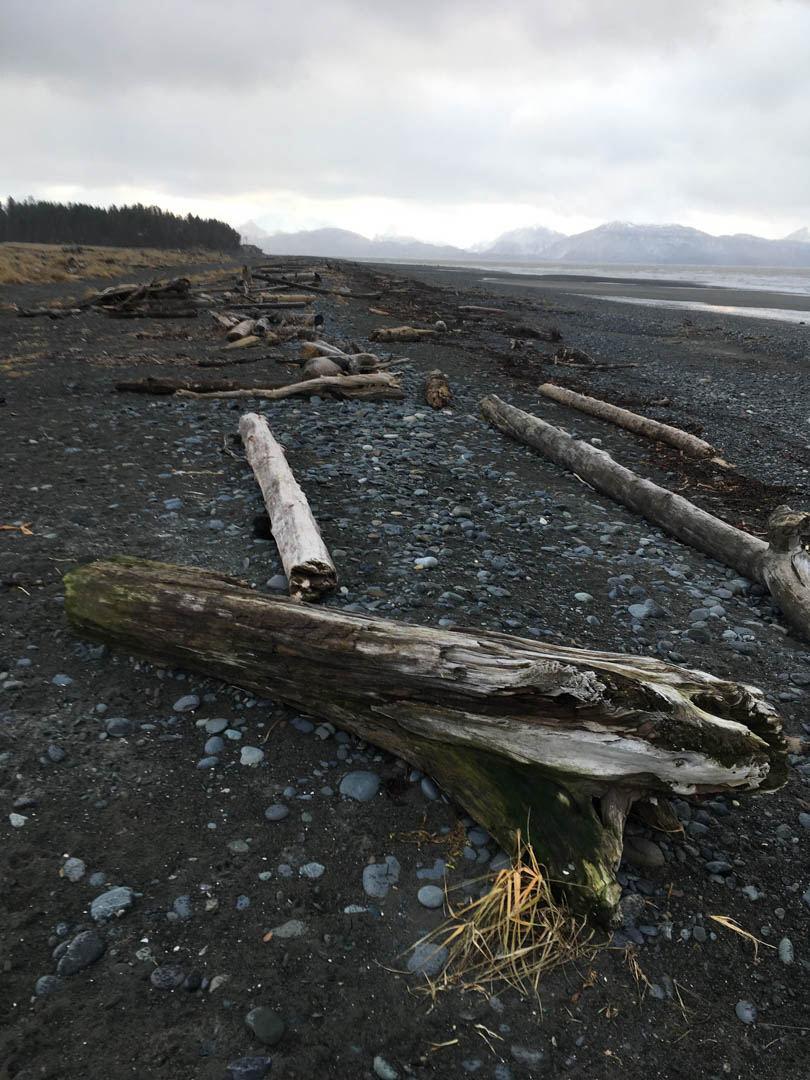 This is looking the other way towards the spit.
Finally, we must have a "lessons learned". Nah, there will be plenty of that on the TV.
I learned that I need a bigger cat carrier.
Also, I must apologize. I thought that everyone visiting this site could easily access all my photos and stories. I have discussed changes with the esteemed web master that runs the show here and hope to have improved access soon. I will let you all know when that happens.
No pressure, Emil!
Stay warm!